The Ultimate Guide to Planning a Costa Rican Wedding on a Budget
My husband and I met under the cheesiest of circumstances- I was a senior in university studying abroad on my first time out of the country, and he was living back home with his mom – my host mom – after graduating from college.
But cheesy as it was, we did fall in love, and after dating long distance for several years, I landed an internship in Costa Rica where he lived, and we began planning our international wedding. Something I found frustrating during this planning process was that there were not many resources available to me as a foreigner getting married to a Costa Rican.
There were tons of blogs and websites about destination weddings, and even marrying a Tico in the US, but I honestly couldn't find anything for someone like me- an American marrying a Costa Rican in Costa Rica. So here it is: I have put together the resources we used and everything you need to know to plan your Costa Rican wedding on a budget.
This post may contain affiliate links. If you choose to make a purchase, we may earn a small commission at no extra cost to you. Thanks for helping us support this site to bring you more guides like this one!
GETTING YOUR ENTRY VISA
While you are still a visitor in Costa Rica, you will need to plan the wedding around your visa status. Most tourists entering the country will receive a 90 day stamp. If you are not planning to head back to the States during this time but need to stay longer, make sure you have proof of travel booked within the 90 days to another country – this is required to book your flight from the US. Typically you can travel to Panama or Nicaragua for at least 3 days to refresh your visa, and this can also be a great way to break up the stressful wedding planning. Be sure to check out our posts for some quick weekend trips to Nicaragua and Panama here!
GETTING A COSTA RICAN MARRIAGE LICENSE
If you are not getting married in the Catholic Church, obtaining your Costa Rican marriage license can be done in one of two ways: you can either hire a lawyer for a few hundred dollars, or get married in family court for free. Of course if you are planning a budget wedding, you may want to go with the latter, but be prepared as this means you and your spouse will have to do the paperwork yourselves. However, when you do choose to get married through the Costa Rican Family Court, you will have to go in to see the judge on an appointed date of their choosing, so be sure to begin this process well in advance before your wedding date. Since my husband organized this for us, I asked him to write the below information to help you if you decide to go this route.
Disclaimer: This is for informational purposes only and should not serve as a replacement for legal advice. This is simply a recollection of the steps that we took to marry without a lawyer, but we are not legal professionals.
ARRANGING YOUR MARRIAGE CERTIFICATE PAPERWORK WITHOUT A LAWYER
A lawyer can marry you for a few hundred dollars. The process would require you to get some documentation yourself, but it will also be more expensive, as they'd tell you everything you need to know and guide you through the process. Alternatively, a family judge can marry you for free, but you'll be responsible for most of what the lawyer would have done.
The required documentation consists of originals and copies, for you and your future spouse, of your birth certificate and passport, a certification of criminal activity (or lack thereof) from the police department of every place where you've lived, and legal proof that you're single. Any of these documents that were not issued in Costa Rica should be properly authenticated with apostilles from your state's Department of State office if they're issued in the U.S. You'll also need official translations of everything not in Spanish from a translator certified by the Costa Rican Ministry of Foreign Relations.
As you can see from our choice of dress, my husband took this ceremony way more seriously than I did. Here we are signing the official marriage certificate in the family court judge's office.
For Costa Ricans the proof that you are not married is called Certificado de Soltería, and this can be obtained from the Registro Civil.
Also, birth certificates for Costa Ricans expire 3 months after they are issued, so this will need to be requested in a timely manner before you request the appointment with the judge. The criminal activity report is called Hoja de Delincuencia.
As an American, you likely have a copy of your birth certificate already but will need to have this translated. Since we do not have an official "single status" certification, what we did was go to the American Embassy in San José and request a certification that I was not married. However, when we brought this to the Costa Rican Ministry of Foreign Relations to have it authenticated, we were told this was unnecessary as they cannot authenticate it. Instead, they recommended that I also request a Certification de Soltería from the Registro Civil. As long as you are not legally married in Costa Rica, this will be easy to obtain with a copy of your passport, and your actual passport.
Applying to be married before a judge
Before applying for a court date with the judge, you'll need to pay to make an official announcement of your marriage in the Costa Rican government's official law journal, "Diario La Gaceta", the equivalent of the US Federal Register. To make the announcement, you will need to go to the Imprenta Nacional to pay for the announcement. That process can take several weeks, so plan accordingly. (The historical context for this requirement is giving others an opportunity to object to the legitimacy of the marriage before it even happens). Unfortunately, they do not inform you when the announcement is made, so you will need to check the website online to confirm when it is published. Once this is done, it needs to run for the timeframe required prior to your appointment, and you will have to provide the announcement as well as when it was first published.
Once you have all the documents, including the announcement and information on your two chosen witnesses, you'll have to drop them off at the Juzgado de Familia (i.e., Family Court) from the city your Costa Rican spouse is from and wait for them to process your information and call you for a date. If you are not sure where your juzgado is located, you can call to find out. Ours was in San José, for example.
On your wedding day, you'll have to come with your future spouse and the two witnesses, have a chat with the judge, and proceed with a short wedding ceremony in their office. Congrats! Now that you are legally married, you can proceed with planning your tropical wedding ceremony.
PLANNING THE WEDDING
For the rest of your wedding abroad, the planning process will be similar to that in the US. Below I have broken down the process of how to locate your vendors for some of the main components of planning your Costa Rican wedding.
HOW TO FIND A VENUE + CATERING & RENTALS
I had been living in Costa Rica for about 9 months before getting engaged, so I was very lucky to already have a community of friends in addition to my fiance's family. While most destination weddings in Costa Rica are in the mountains and beaches, I had a harder time finding good locations near the city where most of our family and friends lived. While we got married at a friend from church's venue outside of San José, their venue is no longer operating for the public, so unfortunately this is no longer an option to share! However, I also have a ton of friends who also have also gotten married in the past few years, so I am sharing how they found their venue and how you can too.
It turns out that Facebook is actually a really great tool for you to locate your vendors. Some businesses share information exclusively on Facebook and don't even have a website. Below are some of the venues my friends have suggested in the city- she ended up getting married at The Shabby Chic House but these are also venues that she considered:
These also came up as suggestions but the websites/Facebook pages are not kept up so you will need to call them directly (this is common as Costa Rica is still very much a personal business culture and is not as inclined to internet updates as we may be used to in the states):
Dota Estate

Hacienda Villa Hermosa

Villa Lotus
Your venue should be able to help you get information on caterers that they work with, or could also provide catering as well as rentals. Just be sure to confirm your request with them – our rental company sent us the wrong color table covers, and when they sent the correct ones they didn't have time to steam them so we had weird lines in the table clothes! Oh well… we still ended up married and happy, but you can avoid our mistake by going over this with your vendors once more before the big day.
Instead of a wedding cake, we opted to cater desserts and pastries from some of our favorite bakeries in San José. This was a sweet way to bring a little bit of our relationship into the wedding, as we had many dates at these coffee shops in the past.
SHOPPING FOR YOUR WEDDING DRESS
I went wedding dress shopping with a friend from Costa Rica and found that most boutiques charged the same price to rent as what we would pay in the States. I was not about to rent a dress for the price of owning back home! Also- most of them were strapless with a corset to accommodate for most sizes. On top of this, none of them would allow us to take photos of me in the dress. I was frustrated to say the least. I actually ended up shopping online and finding a simple white bridesmaid dress from the BHLDN line of Anthropologie. I had this delivered in two sizes to a friend's parents' house who was going to be visiting him in Costa Rica before the wedding. His mom was the sweetest and even brought back with her and mailed in the size that didn't work for me as a return.
However, over the past few years, the wedding dress options in San José have drastically changed which is great news for you! You can use the list below which are some of the most popular wedding dress boutiques to locate on Facebook and make an appointment to have a try on sesh. Note that from experience most dresses in Costa Rica are primarily UK sizing.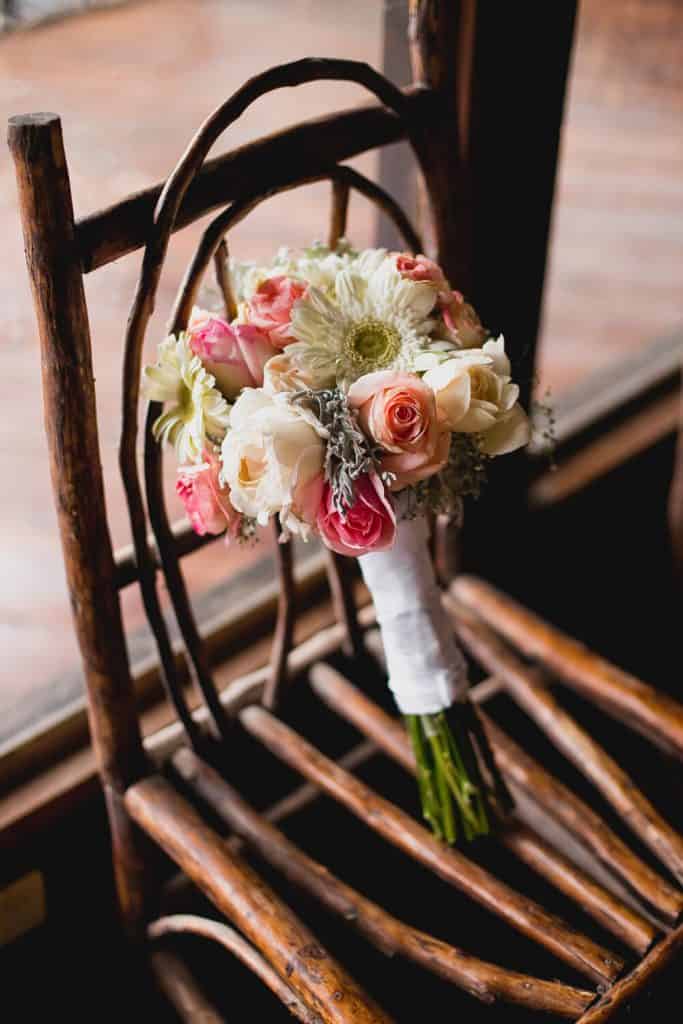 WEDDING FLOWERS IN COSTA RICA
Since we were financing our wedding ourselves, we decided to source our flowers directly from the growers to help with the budget. Our venue directed us to Solo Rosas in Cartago for our wedding flowers, so we took the day to drive out to the countryside and take a look. The drive to Solo Rosas from San José is a bit long and out of the way, but incredibly beautiful, so we brought along my coworker Peter to take some engagement pictures while we were at it. To further stretch our frugal budget, we also opted to pick our wedding flowers up on the day before we said I do, but again it is a very far drive so this took extra time and planning on our part to make it work.
You can also have the option to go through a regular florist. The budget option here is to opt for locally grown, in-season flowers. As you are in Costa Rica, these will be tropical flowers. No matter how much I dreamed of hydrangeas mixed with succulents or specific shades of colors, at the end of the day my bouquet was various white and pink roses and baby's breath. The more flexible you are able to be with what is locally available, the better off your budget will be. Also, don't underestimate the natural beauty of your venue – after all your wedding is in the tropics!
BOOKING ENTERTAINMENT
My husband has two brothers who are professional musicians, and chances are someone in your Costa Rican family will be a musician too. While we did search for a typical reception DJ, my brother-in-law ended up insisting that they perform instead, saying it would be worse if they had to watch us pay money for a worse job – hah! If you are looking for live music as part of your entertainment, may we suggest:
Entre Cuerdas

– Guitar & Saxophone Duo, can also provide a playlist at reception in lieu of DJ

Sergio Granera

– Saxophonist with recorded accompaniments, no website but highly recommended by word of mouth
INVITATIONS + STATIONARY
If you are inviting relatives from out of the country, you should set up a wedding website. Mail can be slow and unreliable, but especially so internationally. We created a free one on the popular wedding website called The Knot. We also elected to create a honeymoon fund instead of a traditional registry, because we were going to move for my husband to do to school after the wedding. The wedding website was a great place to share the link to our honeymoon fund too!
For formal paper invitations, I actually had my mom make them in the US because she was able to design them for us and have them printed. She mailed them out to our guests in the States, and sent our Costa Rican invites to a friend of a friend in California who met us on our travels in Colombia in the spring before the wedding. For the seating chart, we designed a simple one pager and printed at a local print shop then put into a frame. You can find a ton of print shops around San José, especially close to the University of Costa Rica.
FINDING A PHOTOGRAPHER
Wedding photos was not something I was willing to skimp on for quality because my mom is a wedding photographer and these photos are the one thing that lasts after the wedding other than your marriage! After searching for a photographer within our budget to no avail in Costa Rica, we ended up hiring a destination wedding photography duo from the US, and could not have been happier with the result. The Stewarts Roam Photography will travel to any international destination to shoot your wedding, elopement, and engagement. We absolutely loved the way they captured our story and highly recommend them!
Costa Rican Wedding Customs
Some of the things that are traditional to a wedding in Costa Rica were very different from what I normally expect at an American wedding, so I'm going to list them here in case your spouse might want these represented in your international wedding.
Before the wedding, there is a fun tradition similar to the Bachelor/Bachelorette party called the

Despedida De Soltera

. The catch is that the friends of the bride or groom will plan this as a surprise and "

kidnap

" you for the night out, so be on your toes!

The bride and groom will often sit on a

decorated bench at the altar

with their backs to the guests. We chose to stand like I am used to in the US, facing each other with our bridesmaids and groomsmen beside us, but all of my Costa Rican friends got married in this way. Costa Rican weddings may also last longer, with more worship music during the ceremony.

The invitations will list the start time about

an hour before

the ceremony actually begins. This is to give your guests an extra cushion of time to arrive, since Ticos tend to be less punctual than Americans might be. In this case, I am actually the one who is always late, but we chose to list the start time half an hour before, for our Costa Rican guests, and we started right on time.

Costa Ricans do not change their name when they get married. Instead, the children take the paternal last name of each of their parents (Ex: If your last name was

Jones Smith,

and your husband's last name was

Baker Ballard

, your children would have the last name

Baker Jones

) – blending the two families. If, however, you still want to change your last name as a bride, you will have to go through the process of changing it yourself through the various state offices. One way to make it a little bit easier it to use a name change service, which depending on your budget and timeline may be worth it for you.

After the wedding ceremony, an older tradition is to do the

posed family photos

before the wedding party departs and the social/cocktail hour begins. While this is not necessarily as common today, we chose to just do some quick family photos in case our older guests expected this, and it also gave us a chance to include some extended family that might not have been a part of the traditional family pictures.

At the end of a wedding reception in Costa Rica there is often a big party called a

Carnaval

. There are any number of glow sticks, silly hats, masks, giant glasses, leis, whistles, etc, and they will usually hire a comparsa band that plays percussion and wears bright neon colors and other performers. For a budget version, you can easily find lots of silly props to pass out at Almacenes El Rey, or you could just grab some fun

props

, silly

sunglasses

(

these look fun!

),

hats

, and

feather boas

delivered to you from online. Either way, it's a lot of fun and a great way to end the night with a bang.
Did we miss anything? Comment below with any questions you have or suggestions to add!
Like this post? Pin it for later!